Beds
Queen
Room size
870 sq ft / 132 sq m
Occupancy
4 adults (4 children)
Enjoy premium motel accommodation, with a spacious room, desk & workspace facilities, modern bathrooms, reverse cycle air-conditioning & outdoor verandah.Ideal for business travellers, families, groups & couples. Conveniently located a short walk from Queanbeyan River.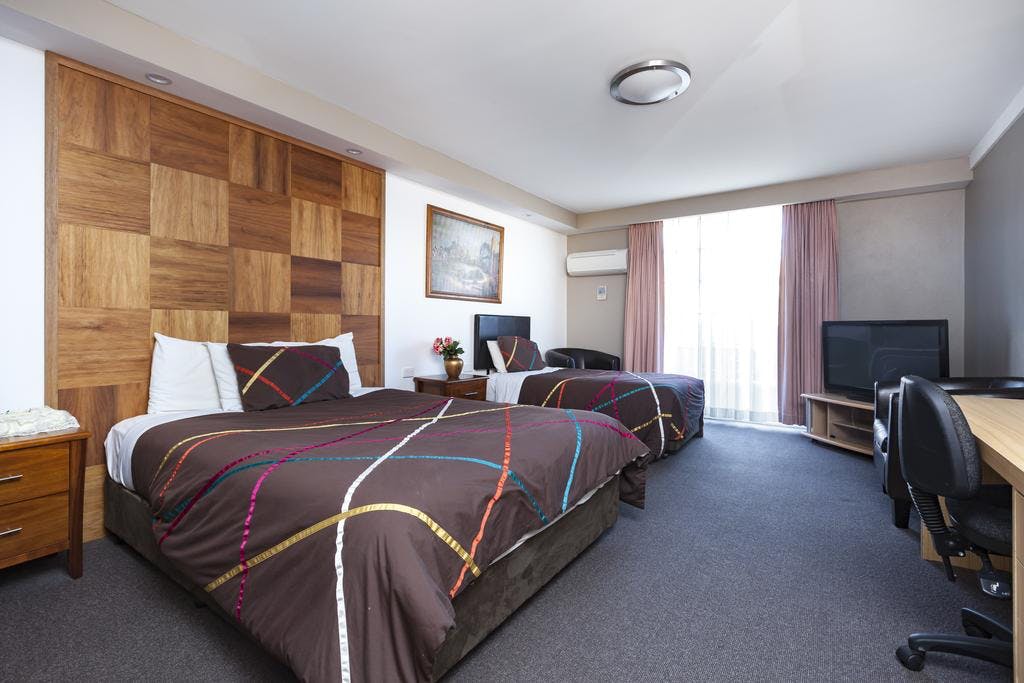 Regular plan
| Mon | Tue | Wed | Thu | Fri | Sat | Sun |
| --- | --- | --- | --- | --- | --- | --- |
| $0.0 | $0.0 | $0.0 | $0.0 | $0.0 | $0.0 | $0.0 |
When booking directly through our website, you instantly save up to 10% on your hotel accommodation, just by using our Book Now feature!
Meaning that booking direct not only saves time and money, it also makes managing your booking that much easier!
Our reservation team are always more than happy to liaise with you and coordinate your booking to suit your requirements.
Sleeps 2-4
Complimentary coffee & muffins will help you wake up on the right side of bed in our modern & upgraded executive motel rooms. Available in queen, single and twin configurations, there is enough space to comfortably get work done when needed, providing you an executive & spacious hotel room experience. Reverse cycle air-conditioning will keep you warm in winter and cool in summer.
Ideal for professionals, guests seeking extra space & group accommodation.
Air conditioned
Telephone
Queen & Twin Layouts
Kitchenette
Mini-fridge
Bath/Shower
Spacious Desk
Wifi
Parking included
24hr check-in
Heating
Sofa Bed
Golden Age Motor Inn
186 Google reviews
Monica Quist
September 10, 2022.
I had exceptional customer service from the beginning with Neil, from changing the dates last minute to waiting for us to arrive to ensure we could get our key. Not only does the outdoor area look beautiful but so do the rooms! I was amazed to walk in to find a beautifully decorated bed with actual quilt covers! Then to see a mini kitchen with a sink unlike the last place i stayed. It had a decent sized bathroom with everything you need from soap to Q-tips! The room was spotless and i could not fault anything. And the bed!!! Very very comfortable! I give a 5 star rating and i will definitely be coming back in the future to stay here. Well done to the cleaners of the place too, you guys do your job properly and care for the customers comfort and hygiene.
Stephen hughes
September 7, 2022.
Nice clean spacious room Lovely bathroom Free coffee and muffin Handy Location
Prakash Bastola (Kash)
September 5, 2022.
Enjoyed my stay! Clean rooms, friendly people, beautiful location and good places near by for food !
Denise Bant
August 30, 2022.
Was in a handy position not far from the centre of Queanbeyan and a short drive to Canberra. Room was comfortable enough and clean. The lady manager we met on sign in was lovely and so was the housekeeper. A maintenance issue that we had was attended to and fixed in 10 minutes. Thank you.
Shane Ayre
August 29, 2022.
Very cozy room friendly staff
Graham Brown
August 22, 2022.
Great place to stay with your K9. Close to everything and striking distance to park and river. Room was pretty big and clean too. I would have stayed there again this week but for the fact they were booked out.