Beds
Queen
Room size
870 sq ft / 132 sq m
Occupancy
4 adults (4 children)
Spacious motel room, with luxury bedding, linen, workspaces, aircon & verandah. Ideal for professionals, guests seeking extra space & outdoor privacy, couples accommodation, small groups and those looking for conveniently located hotel accommodation.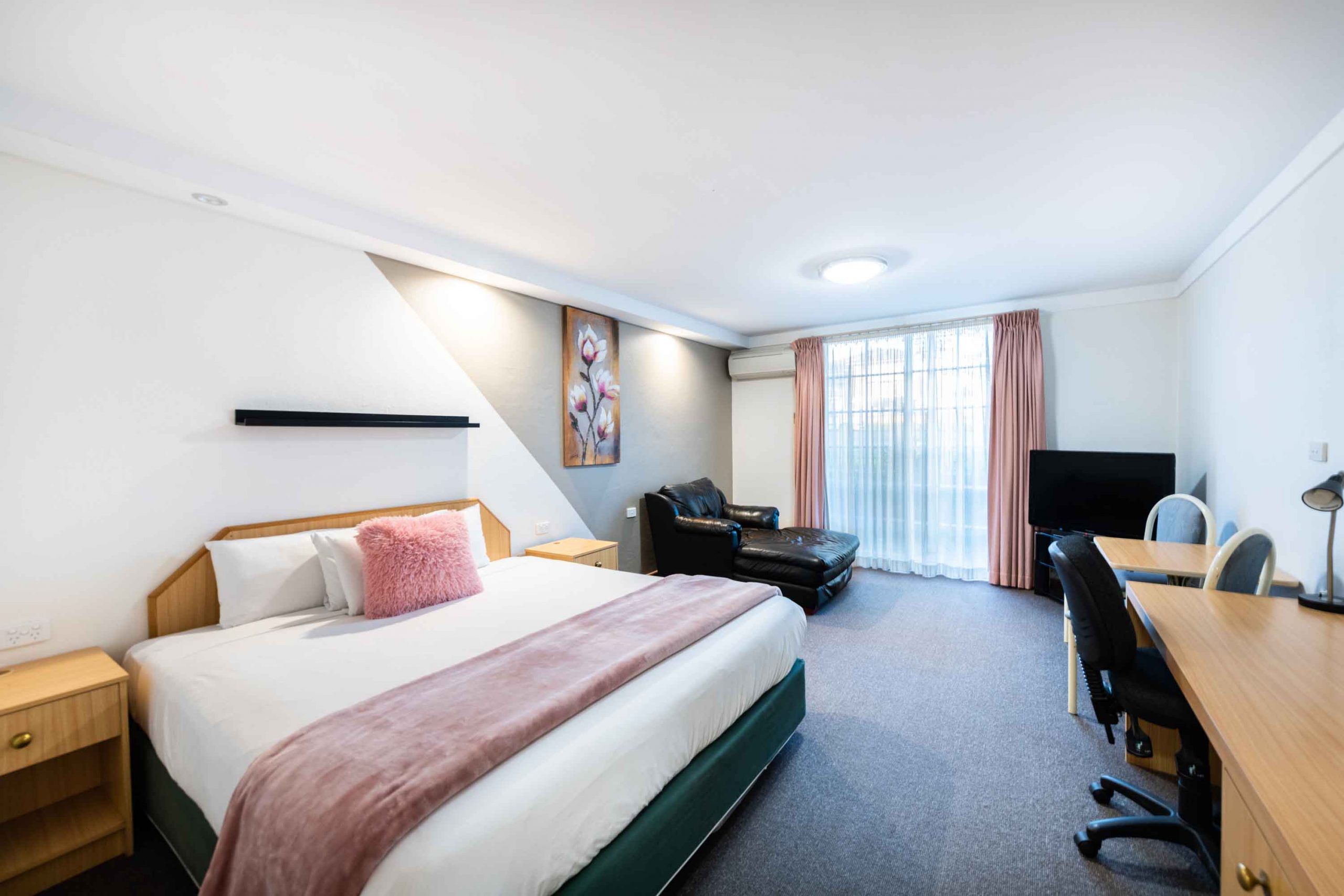 Regular plan
| Mon | Tue | Wed | Thu | Fri | Sat | Sun |
| --- | --- | --- | --- | --- | --- | --- |
| $0.0 | $0.0 | $0.0 | $0.0 | $0.0 | $0.0 | $0.0 |
When booking directly through our website, you instantly save up to 10% on your hotel accommodation, just by using our Book Now feature!
Meaning that booking direct not only saves time and money, it also makes managing your booking that much easier!
Our reservation team are always more than happy to liaise with you and coordinate your booking to suit your requirements.
Sleeps 2-4
Our Deluxe Room provides a spacious hotel room experience. Available in King, Queen and Twin Deluxe Room options. The rooms are complete with a private outdoor area, sofa, above-bath shower, bedding & linen for several guests, free WIFI, 42" flat-screen TV, desk and modern bathroom facilities.
Ideal for professionals, guests seeking extra space & outdoor privacy, couples accommodation and small families or groups.
Air conditioned
King, Queen & Twin Layouts
Microwave
Mini-fridge
Dining Setting
Bath/Shower
Desk
Wifi
Parking included
24hr check-in
Heating
Verandah
Golden Age Motor Inn
230 Google reviews
John Langlands
January 10, 2023.
Verified
I have been staying at The Golden Age Motor Inn whenever I'm in the Canberra, Queanbeyan area for the past 20 odd years and it always is a very pleasant experience, the rooms are always immaculately prepared. Neil and every other Staff member are always very helpful and friendly.I dont stay anywhere else if they have a vacancy. Keep up the outstanding service you Guys are the Best.
Hong Poi
January 7, 2023.
Verified
Clean rooms, comfy beds, many pillows to suit high, low or side sleepers. Complimentary bagels, croissants and muffins to help yourself from reception fridge for breakfast. Great for quick bite. Debbie is very friendly and helpful.
Jason Ewing-jarvie
January 5, 2023.
Verified
Great room and friendly service. Good location and easy access to the centre of Canberra, thanks 😊
hussam waleed
January 2, 2023.
Verified
It was a very good experience and it will be my favorite place any time I am heading to ACT, highly recommended place. Thank you
Paul G
December 16, 2022.
Verified
This is my second stay at the Golden Age Motor Inn and I love this motel👍 everything over there just works super smoothly and the staff (Debbie and Steve) are simply amazing! They are excellent communicators too and it's a is a key. Also I arrived in the evening and I found their check-in kiosk super convenient and easy to use👍 earlier received email with my kiosk pin so could get my room key-card based on my booking. Overall I highly recommend this motel and will keep coming here🤗
Tony McLennan
December 15, 2022.
Verified
Good attitude from Steve and Debbie. Very cheerful and willing to help at any time.
Deanna Mastellone
December 1, 2022.
Verified
Beautiful spacious, spotless, quiet room, lovely bathroom with everything you need. Very kind staff. The car park was absolutely full at 9pm. The car park was empty by 8.30am, an excellent motel for all business travellers. Will definitely return to stay, highly recommend it, value for money. Slept very well in a comfortable bed.
Phil Thistlewaite
November 28, 2022.
Verified
Made very welcome on arrival and found the room spotless with a nice big comfy bed and all the facilities to make my stay memorable. It's the little things like an iron and ironing board to iron the shirts with that make the difference . Only a ten minute pleasant walk to the CBD so I'll definitely be back