Beds
Queen
Room size
870 sq ft / 132 sq m
Occupancy
4 adults (4 children)
Relax in privacy with our spacious hotel room featuring a separated master bedroom, complete with TVs in each room and the ability to sleep up to 5 people. Ideal for families, worker groups, families, short & long stay.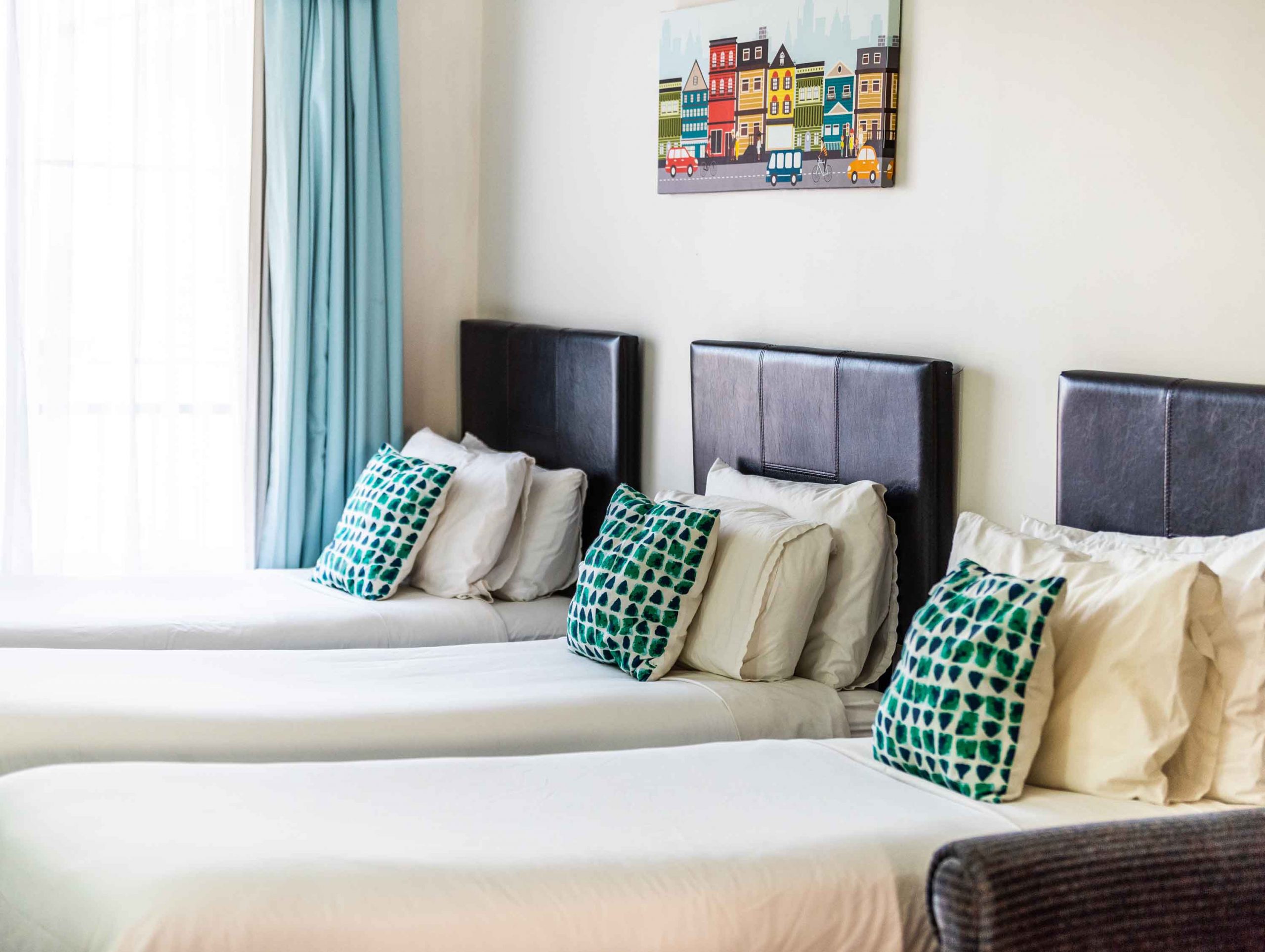 Regular plan
| Mon | Tue | Wed | Thu | Fri | Sat | Sun |
| --- | --- | --- | --- | --- | --- | --- |
| $0.0 | $0.0 | $0.0 | $0.0 | $0.0 | $0.0 | $0.0 |
When booking directly through our website, you instantly save up to 10% on your hotel accommodation, just by using our Book Now feature!
Meaning that booking direct not only saves time and money, it also makes managing your booking that much easier!
Our reservation team are always more than happy to liaise with you and coordinate your booking to suit your requirements.
Sleeps 2-5
Complete with a luxury Queen posturepedic bed in the master bedroom, cosy pillows and fresh linen. While the spacious lounge area is furnished with three single beds. With room for up to 5 people, our Family Suite is complete with linen, Free WIFI, reverse cycle air-conditioning, desk and flat-screen televisions. Perfect as a Jindabyne accommodation substitute or as a base for Canberra explorations.
Ideal for group bookings, an alternative to Jindabyne accommodation & family holidays.
Master Bedroom
Laundry Facilities
Shower
Two Televisions
Mini-fridge
Modern Bathroom
Lounge Area
Wifi
Parking included
24hr check-in
Heating
Air Conditioned
Golden Age Motor Inn
210 Google reviews
Juliet Mackenzie
November 1, 2022.
Verified
We had a great stay at the Golden Age, perfect spot for family get together in Bungendore and to explore Canberra. Very friendly staff who helped sort a different room after hours. Thanks again!
Denise Gersbach
October 31, 2022.
Verified
Fantastic stay. Very clean, tidy motel. Comfortable rooms. Love that it is pet friendly!! Lovely greeting at reception on arrival.
val tufrey
October 27, 2022.
Verified
Nice people to stay with. Good comfortable old style motel. Comfy beds. Great shower. Secure parking. Good coffee.
Joanne Harold
October 25, 2022.
Verified
I stayed 1 night with my mum in the family room. The motel is 1980s style and perfect for our needs. Our room was large the beds comfortable and the unit very clean and well maintained. My experience at reception was quick and thorough. All in all an excellent stay and I'll definitely stay again.
Peter Valentini
October 21, 2022.
Verified
It's the 2nd occasion my family & I have stayed at Golden Age Motor Inn & on both occasions it has been Bloody Marvellous. Excellent staff & service, clean & quite rooms.
Victor Yee
October 18, 2022.
Verified
Deb does a great job in creating a welcoming environment at the Golden Age Motor Inn. The rooms are large and spacious, beds are comfortable and there are gestures like hot beverages and pastries in the front office. Will be our go to place when visiting Canberra.
Abigail Figueroa
October 16, 2022.
Verified
The dog/pet room was outstanding! My first time going away with my puppy and wasn't sure what to expect. I was very pleasantly surprised that the room was super clean, lots of space, furniture (none of it dog eaten) smelled nice great en suite! Very impressed. Friendly accommodating service from staff. Would definitely stay there again.
Mark Salmon
October 16, 2022.
Verified
I've stayed in a number of properties over the years in the Canberra/Queanbeyan region but Golden Age is the place that I keep coming back to. Deb and Steve as well as the other staff are friendly and welcoming, there is a great selection of rooms and walking distance to town.